This audio is created with AI assistance
AVDIIVKA, Donetsk Oblast – Avdiivka is an eerie city to drive into in March 2023. One year into Russia's full-scale war against Ukraine, but nine years into the Donbas war, the compact city just 10 kilometers from the center of occupied Donetsk is barely holding on.
There is little choice of route, as previously used entrances to the town have been swallowed by the red bulges on the map that represent recent Russian advances on either side of the city.
The approach is quiet enough with the windows down, but impact craters and burned-out vehicles on the roadside attest to the frequent targeting of the road.
At the edge of the urban area, two soldiers pose for photographs at a sign saying "Avdiivka is Ukraine!"
Once inside, the atmosphere is noticeably different from that observed by the Kyiv Independent in the similarly embattled city of Bakhmut in January.
Where in Bakhmut, dozens of civilians could still be seen traversing the streets by foot or bicycle, seemingly oblivious to the destruction around them, the few left in Avdiivka rarely go far from the safety of their basements.
A parking spot was found up behind the wall of a five-story building facing northwest, the only direction Russian forces could not fire from.
At the entrance, volunteers in bulletproof vests handed out food packages to a handful of residents huddling close to the door.
Nearby, utility workers cleared debris, collecting fallen trees that could be used for fuel.
"Look at this one," one of them said, presenting a jagged piece of shrapnel in his canvas glove, "it's still hot."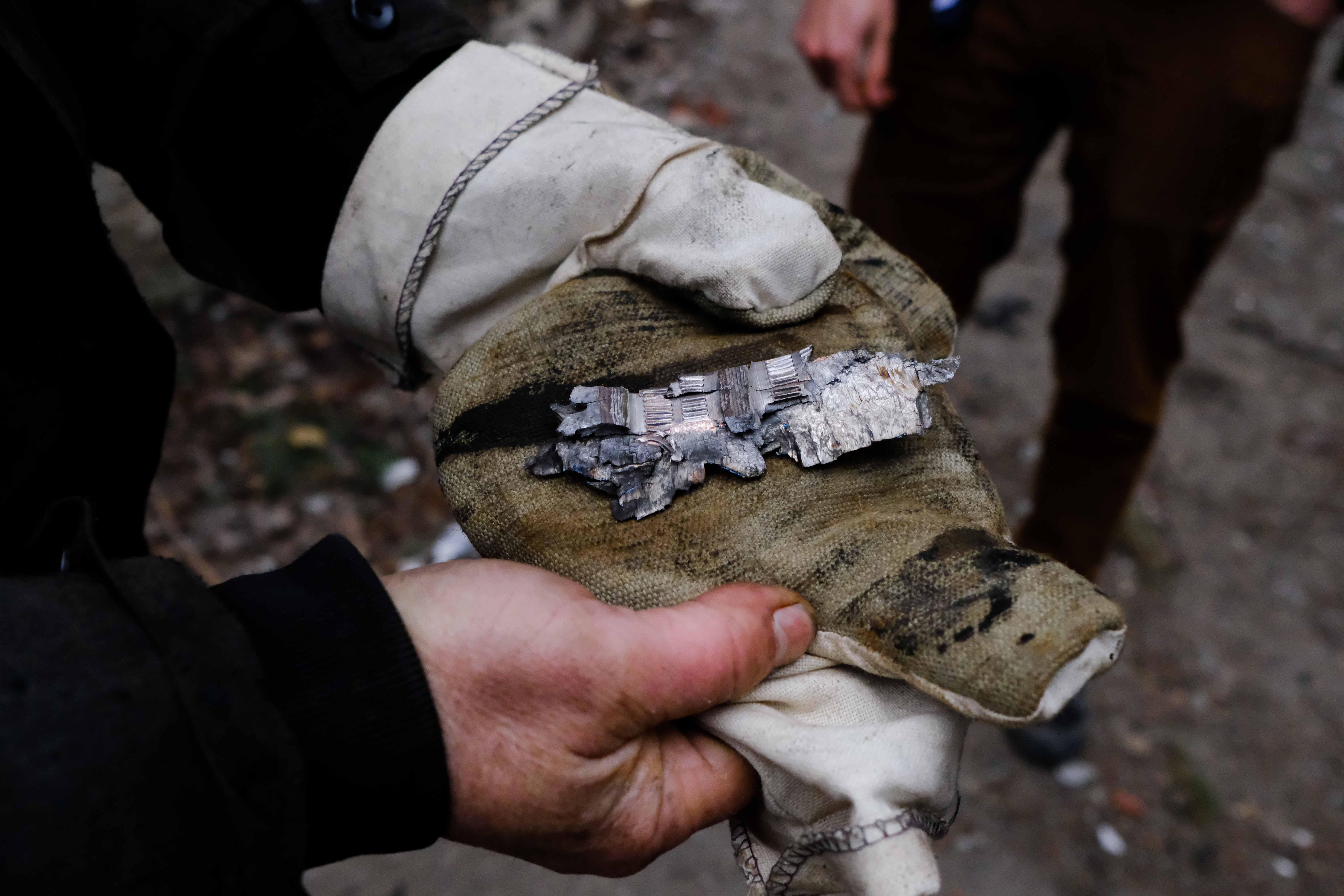 A fortress of sandbags in the neighboring building marks Avdiivka's defiant police station. A lone officer on duty is welcoming, but declines to give official comments, as like many residents of the city, he still has family in his own home city of Donetsk.
The morning had been one of intermittent shelling. The police officer received a call.
"200, a woman" came a scraping voice over the phone, referring to the military code for the dead.
"Thank you for letting me know," the officer replied, "let her lay there for now until it gets quieter."
The woman, a civilian, was killed by indirect fire from a Russian tank targeting the city, he later added.
In a city like Avdiivka, the work of a state organ like the police is turned on its head.
Residents are killed regularly by Russian shelling of the city, property damaged beyond recognition, and others constantly in need of help.
With Russian forces making recent gains on the flanks of Avdiivka, Ukrainian military spokesperson Oleksii Dmytrashkivskyi acknowledged on March 20 that the city could become a "second Bakhmut."
Fifty kilometers north of Avdiivka, Bakhmut has seen the heaviest fighting of the war, and become a symbol for Ukraine of incredible resistance against all odds, but also of immense loss.
For now, Russian forces have failed to entirely encircle either city, but continue to make methodical advances.
In the meantime, life for civilians left in Avdiivka is one of methodical extermination.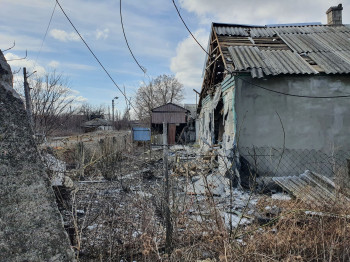 Attacks intensify
The city of Avdiivka can be divided cleanly into three zones.
The north of the urban area is dominated by the vast Avdiivka Coke Plant, which had operated at reduced capacity since 2014, when Russia first invaded the east of Ukraine, and now stands unused.
To the south and east stretch countless rows of private houses, now lastly abandoned by locals.
The Soviet-planned city center, better known as the Ninth Quarter, covers just a compact pocket on the southwestern side, where multi-story buildings offer views onto Donetsk itself.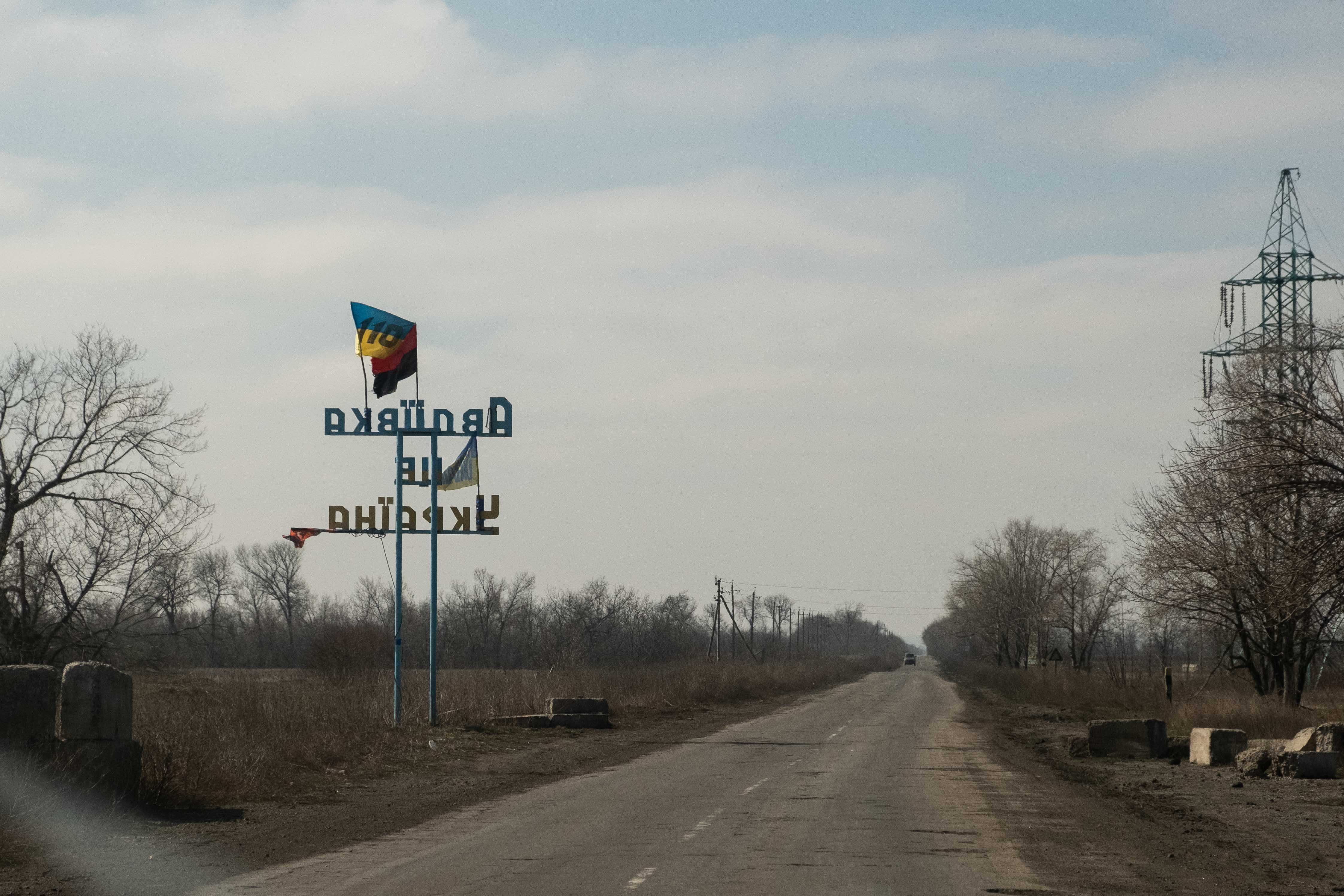 While Russian troops have failed to make front-on pushes into the urban area, much like in Bakhmut, Avdiivka's position has been compromised by Russian advances through the countryside on the flanks.
The fighting is fierce around the city, with dramatic rates of attrition reported on both sides.
Speaking on March 19, Dmytrashkivskyi reported that Russia had lost three whole infantry companies (300-350 troops), 15 tanks, and nine infantry fighting vehicles over the previous day just in the vicinity of Spartak and Vodiane, two villages between Avdiivka and Donetsk.
On March 22, the Russian Defense Ministry claimed to have caused over 300 Ukrainian personnel losses in the Donetsk area alone.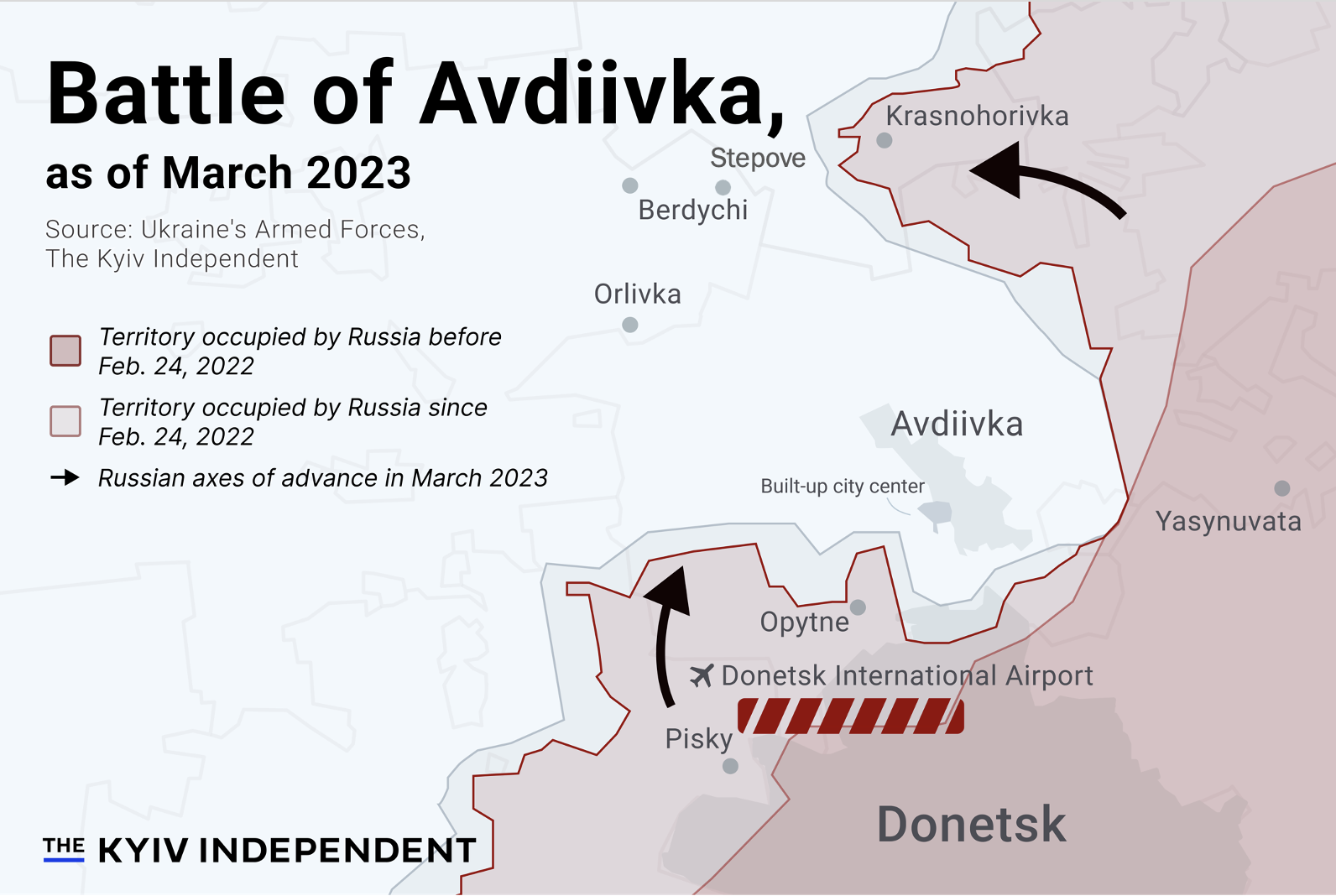 Amid this highly exposed trench warfare, solid evidence of the capturing and holding of territory can be hard to come by.
Russian Telegram channels claimed on March 19 that Moscow's forces had captured Krasnohorivka village on Avdiivka's northern flank, pushing further to the village of Stepove.
The following day, when the Kyiv Independent traveled to the city, assaults were reported on the outskirts of the Ninth Quarter.
Meanwhile, Ukraine's General Staff doesn't tend to report retreating from a given settlement, but if Ukrainian forces are said to have fought back an attack somewhere that was previously unmentioned, it stands to reason that the neighboring settlement could have fallen.
This was the case north of Avdiivka on March 20, when a failed Russian attack was reported on the village of Berdychi along the only remaining sealed road into the city, all but confirming Russian control over Krasnohorivka.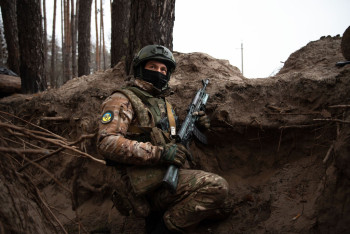 A year underground
On the western edge of the city, dark smoke rose from the middle of a giant painted sunflower on the wall of a school.
Though it appeared initially to be a recent hit, on closer inspection, the smoke was coming from a chimney, a sign that people were living underground here.
Plans to visit the city's hospital and utility services building were quickly abandoned as a loud buzzing was heard overhead. A white quadcopter drone hung around 25 meters in the air overhead, fixated on our group, while others circled nearby.
From the relative safety of the school, abandoned since 2014, incoming cluster munitions rumbled in, closer than had previously been heard.
At the end of a hallway adorned with faded children's drawings, three women stood outside a staircase leading underground, orbited by three dogs, friendly and well-fed.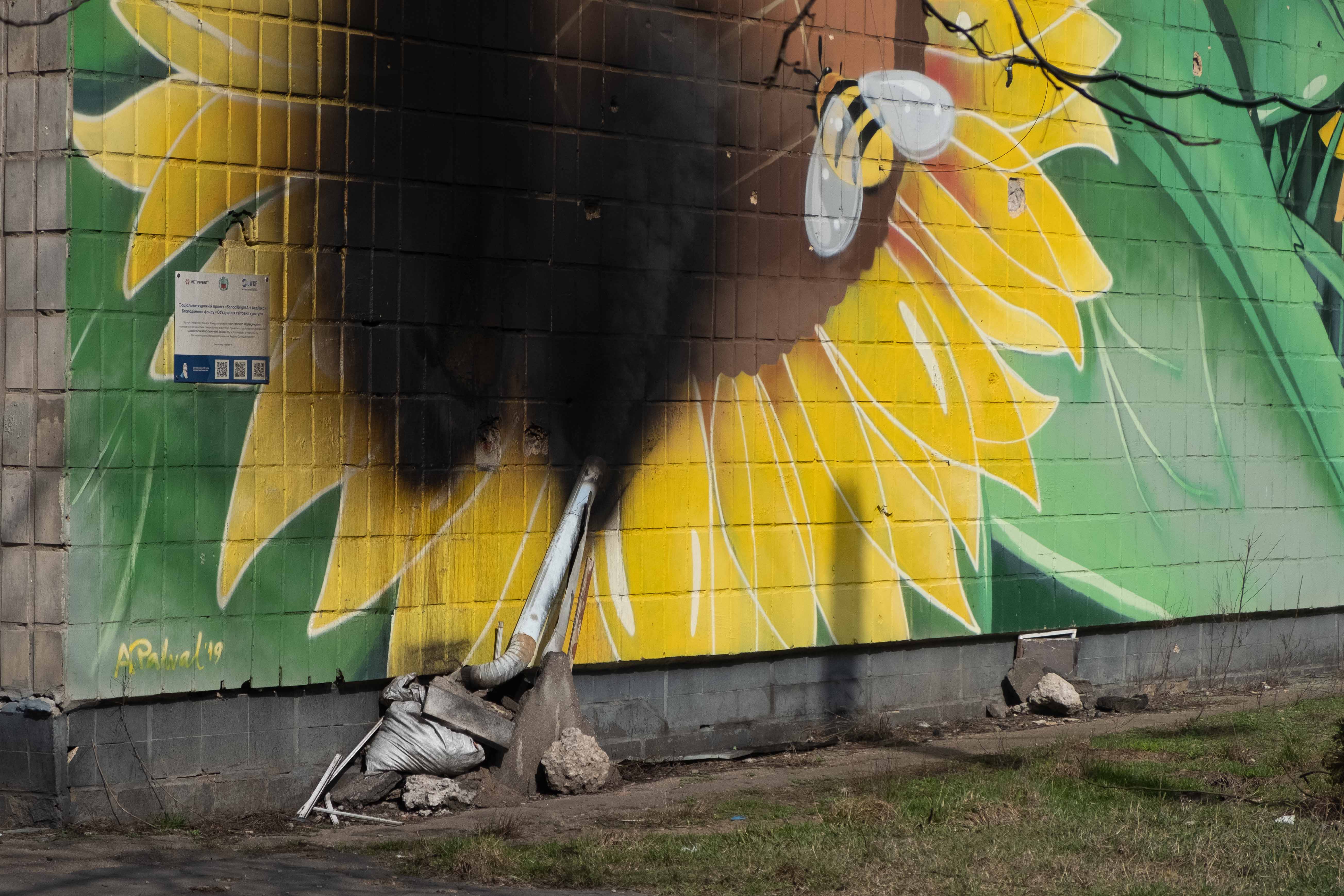 Oksana Maiorova, 52, a sanitation worker and native of Avdiivka, has lived in the school building since the beginning of the full-scale invasion.
Her apartment is mostly intact for now, but she only returns every second day to feed two cats that still live there.
Nine years after it first found itself on the front line of Russia's war against Ukraine, the city with a pre-war population of over 31,000 is now next to empty, with local administration head Vitalii Barabash estimating on March 22 that only around 2,000 people remained, including six children.
Maiorova led us to the cellar underneath the school building, where she lives with her mother and a handful of former neighbors.
The rooms were spacious and cozy, fed by the warmth of wood-burning stoves on which the residents cook their food.
"Winter was hard here, but as it gets warmer, the worry is that we will have to head outside to cook," said Maiorova.
"I really hope it will be quieter by then."
This basement alone was home to over 100 people when they first moved down in March last year, Maiorova said. All but 12 people, including all the children, have evacuated.
"I think it's a crime to keep children in places like this," she said.
"There was a family nearby with a six-year-old girl, volunteers came so many times, kept pressing them to evacuate but they always refused and eventually she was killed."
Evacuation is, as always in these front-line cities, a hot topic among those still living here. Maiorova said she would have left long ago if not for her 76-year-old mother Liubov Maiorova, who sat there in the adjacent bed, wearing a purple sweater and dark sunglasses.
"I was born here, grew up here, the graves of my husband and son-in-law are here, where should I go?" said Liubov.
"If I'm just going to die somewhere, it might as well be on my own land."
Inna Ivashchenko, a 38-year-old mother of two, has sent her children to a village further in the rear, but also feels no choice but to stay with her father, who lay in his bed, quietly browsing his phone.
"We sit here, we prepare food, and we pray before bed that it will all be over soon," she said.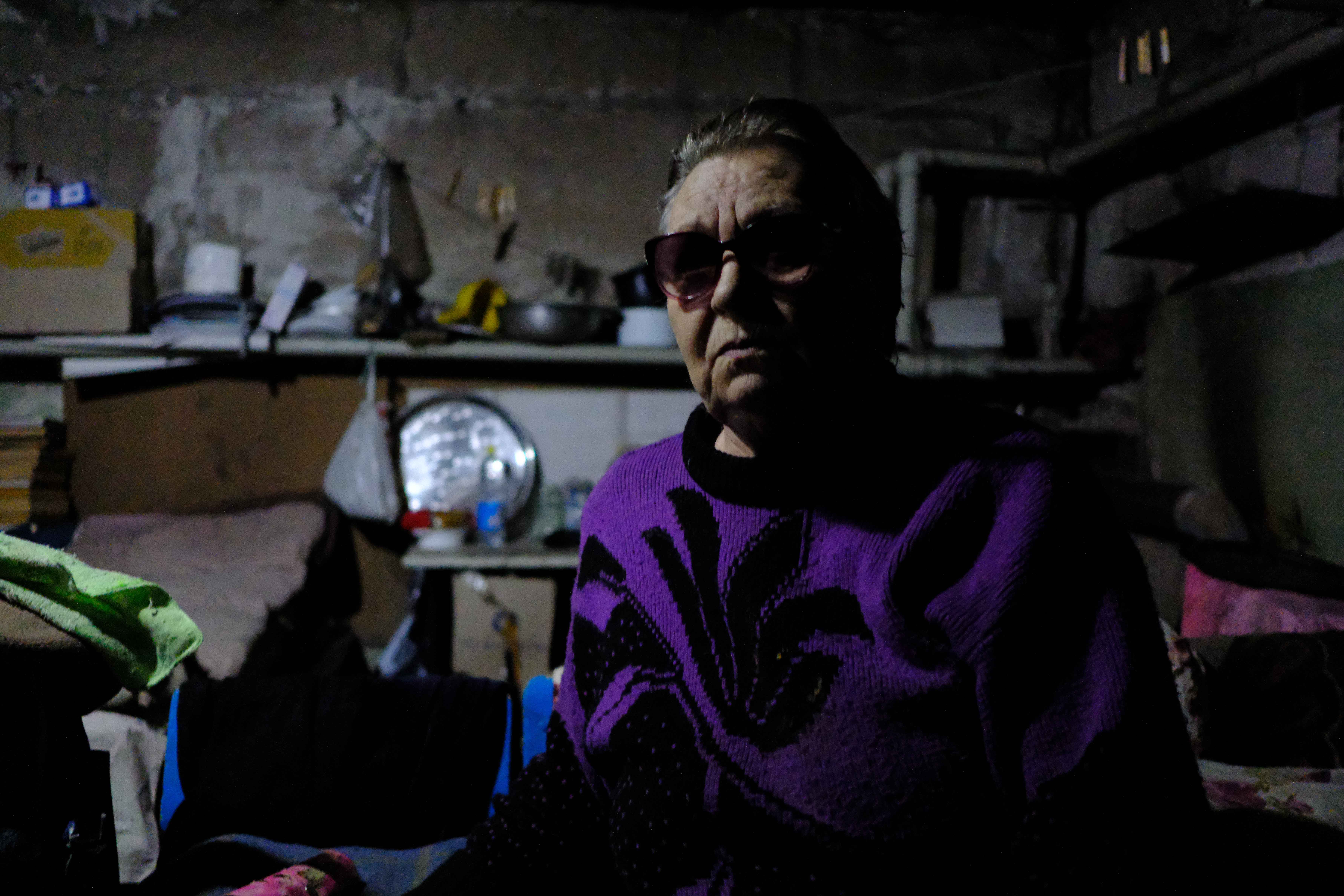 The conversion was interrupted by the crash of a shell right by the school building.
The first shells failed to provoke much of a reaction from Maiorova and her neighbors.
A laconic raise of her eyebrows conveyed a simple unspoken message: "There we go, now you really see how we live."
Then, as more and more landed nearby, facial expressions began to change.
"They're aiming at us now," came the voice of Ivashchenko's father from his bed.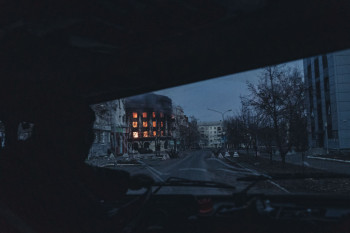 From the old war to the new
In Russian, the phrase "eight years" has come to be inherently linked to the war in Donbas.
Russian propagandists, from television presenters to paid TikTok influencers, parrot the term in reference to baseless claims about Ukrainian shelling of occupied parts of Donbas since 2014, one of Russia's main justifications for launching the full-scale invasion in 2022.
In Ukrainian-controlled Avdiivka, the absurdity of this idea is on display in the testimonies of locals who have been on the front line of Russia's war since the beginning.
"We have suffered like this for eight years," said Ivashchenko, trailing off, "maybe a bit more." It has been nine now.
In a flare-up in 2017, deemed by the OSCE to be the worst escalation of fighting since the signing of the Minsk II Agreements two years earlier, 14 civilians were killed in Avdiivka over just six days as Russia used artillery and rocket systems banned by the ceasefire terms.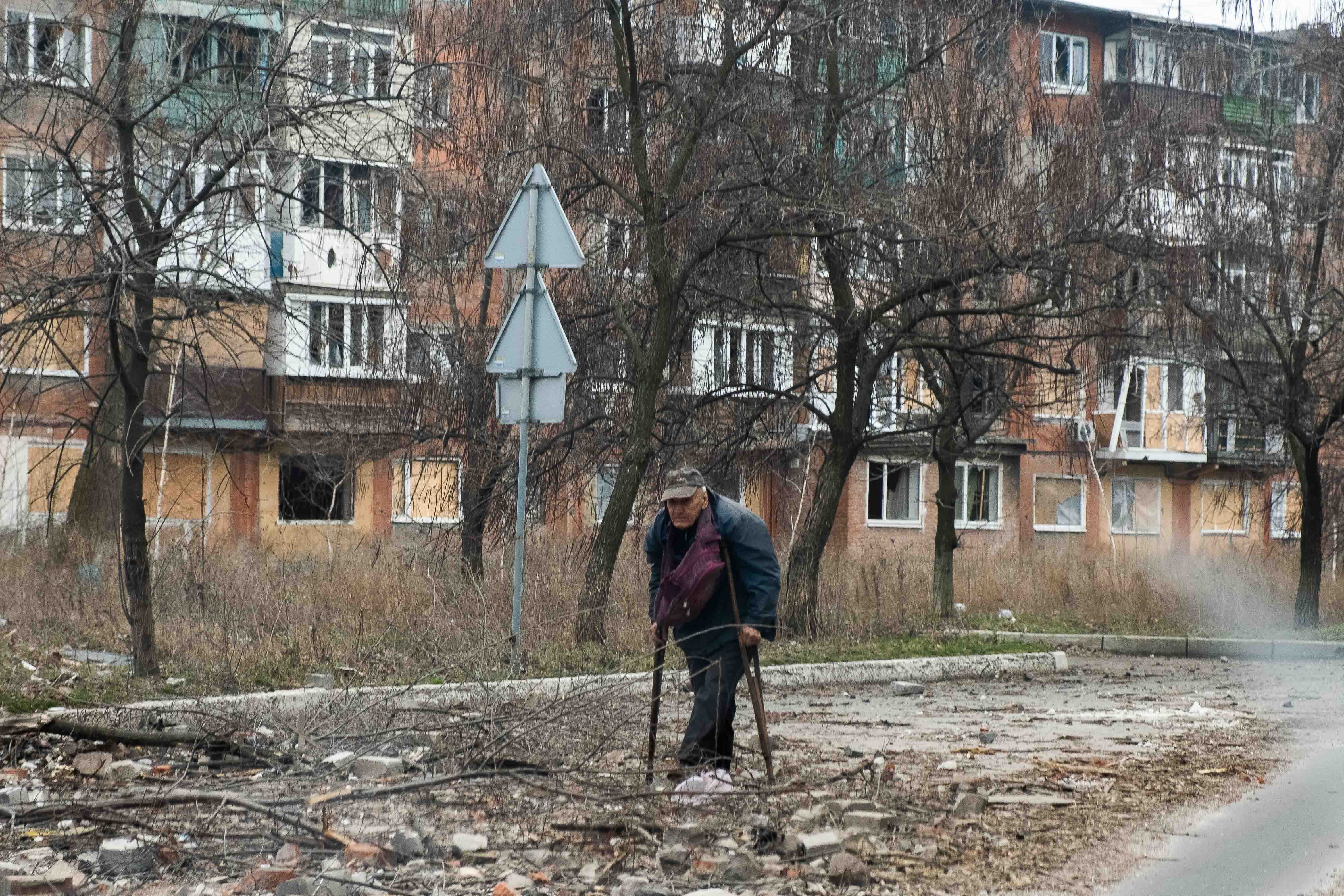 Maiorova stressed that when Russian proxies first occupied Donetsk in 2014, nobody in her social circle welcomed the change.
"Even in Donetsk, there wasn't anything like that before, nobody I knew there wanted to join Russia, it's nonsense," she said.
"Sure, some people wanted autonomy, like Crimea, so that Donbas would keep its own money."
By early 2015, the front line in Donbas stabilized, and many made the choice to stay in occupied Donetsk, including Maiorova's uncle and two cousins.
In the past weeks, Maiorova hasn't been able to reach her relatives, but even before that, there was no discussion of the war.
"If we do call, it's just 'Alive?' 'Alive,' 'House in one piece?' 'Fine, thank god.' And that's it," she said.
"One of my cousins had a child at the beginning of 2014, but I have only ever seen her in photographs. What kind of conflict can there be here? I just want to see her."
Holding on
From inside the school basement, the sound of the barrage continued without pause.
Over an hour of intense fire, around a dozen shells landed close enough to make the underground structure tremble. In the background, the rolling bursts of more cluster munitions tended to fill the quiet in between.
The once playful dogs now lay in the corridor, motionless, chins pressed against the ground.
At one point, one explosion outside is followed by a burst of crackling sounds, not unlike that of popcorn popping enthusiastically.
"I haven't heard anything like that one before," said Ivashchenko.
Though there is no phone signal left in the city, residents of Avdiivka can occasionally access the internet at volunteer hubs and at the utility services building.
Where they get information on the developing battle, or whether they seek that information at all, is a different question. The recent Russian advances north and south of Avdiivka are not discussed among those in the basement.
"The soldiers and police don't talk to us about how the war is going," Maiorova said, "but we try to listen to Ukrainian radio when we can, it's not like we are living in a vacuum."
"Otherwise, we get a pretty good idea of what's going on with our own ears."
Having been offered shelter from the shelling by these residents, further pushing the topic of Avdiivka's potentially imminent occupation seemed out of place.
"We aren't soldiers, we can't comment on what decisions they've made," Maiorova added.
"The worst thing is that people are dying, it doesn't matter whether they are military or civilians; the soldiers also have mothers at home. I have no idea what the politicians at the top are thinking about."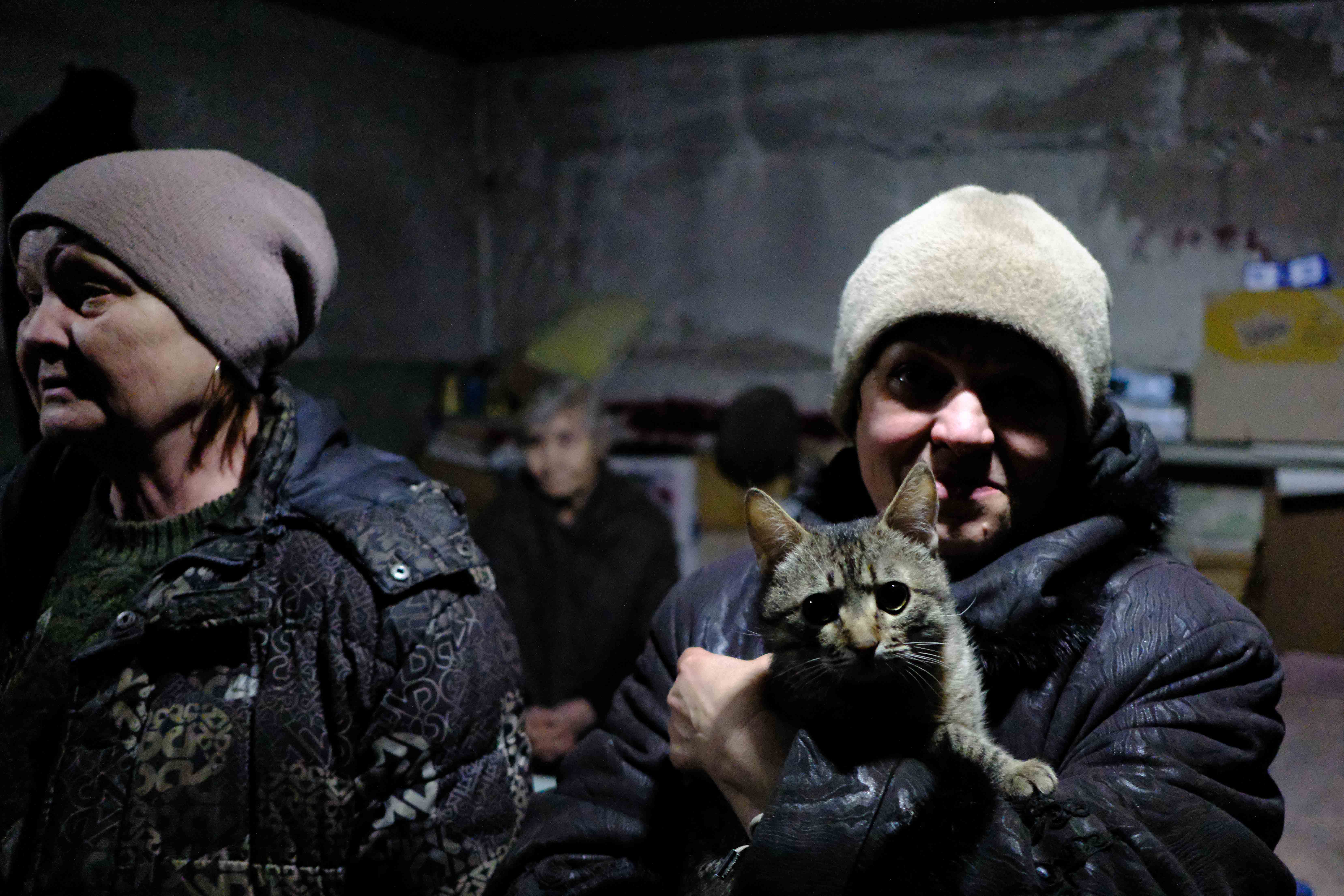 In front-line areas across Donetsk Oblast, those who remain despite the destruction of their homes often say they are waiting for Russian forces to arrive. In this basement, this was not the case.
"We live in Ukraine," said Ivashchenko, "it's our own victory we are waiting for."
As the bombardment quietened down, it became possible to make a quick run for the car, miraculously untouched by shrapnel.
Leaving Avdiivka, rifle and machine gun bursts could be heard to the south and west, matching Russian reports about assaults on the city that afternoon.
Later in the evening, a text message appeared from Maiorova, who was able to catch some signal.
"Did you make it out?" it read. "We were terribly worried for you."
---
Note from the author:
Hi, this is Francis Farrell, who wrote this piece from on the ground in the middle of Russia's neverending assault on Ukrainian cities in Donetsk Oblast. The battles here are hell on earth, but it can be difficult to understand what is actually happening on the ground, so we watched it for ourselves. Ukraine achieved stunning victories over autumn, but the way Russia is able to keep up their attack shows that this war is far from over. Please consider supporting our reporting.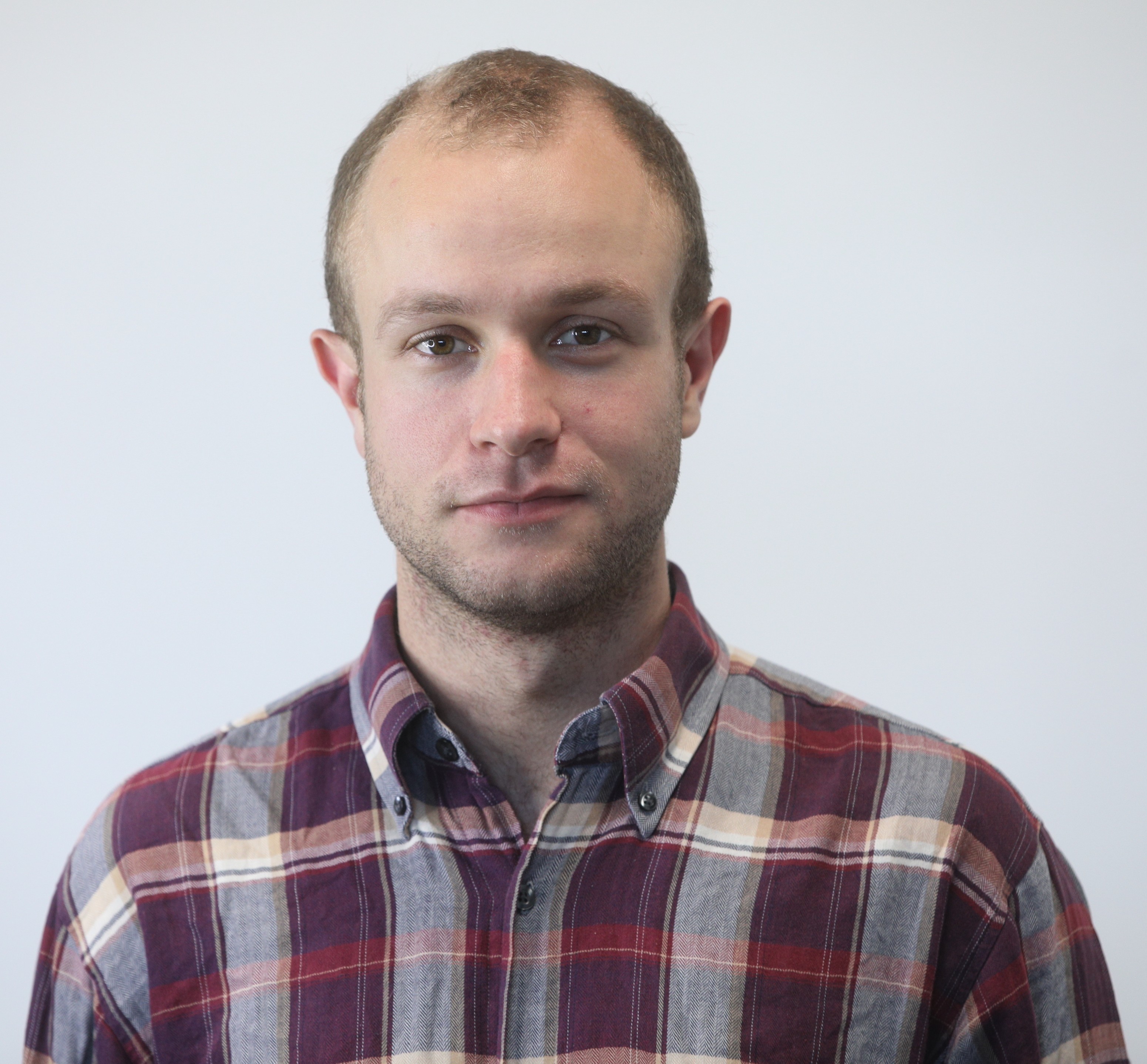 Francis Farrell
Reporter
Francis Farrell is a reporter at the Kyiv Independent. He has worked as managing editor at the online media project Lossi 36, and as a freelance journalist and documentary photographer. He has previously worked in OSCE and Council of Europe field missions in Albania and Ukraine, and is an alumnus of Leiden University in The Hague and University College London.