This audio is created with AI assistance
Oleksiy Danilov rarely cracks a smile.
The gruff-looking 60-year-old National Security and Defense Council secretary doesn't have much to smile about.
One year after their botched attempt to dismantle Ukrainian statehood, Russians are expected to launch another major offensive in an attempt to turn the tide of the war.
The next few months will be decisive in bringing Ukraine closer to victory, Danilov told the Kyiv Independent during an interview.
"We want 2023 to be the year of victory, but we are realists, and I think that the West doesn't know what to do with Russia," he said.
Ukraine's strategy is simple, he said: Ukraine needs more weapons, and it needs them as fast as possible to "liquidate Russians."
"We need tanks to defend ourselves and develop counter-offensives," Danilov said. "We need cannons, shells, tanks, rockets, planes, and we needed them by yesterday.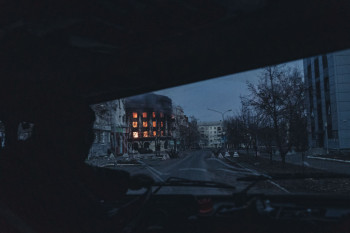 Time is of the essence, he hammered, because for Ukraine, "wasting time means losing the lives of people who die for our freedom."
Danilov says it's time for the West to overcome its fear of Russia and provide all necessary weapons to approach Ukraine's victory.
"If you are scared – you are already defeated," he said. "We don't feel fear toward these barbarians, and that's why we're going to be victorious."
New offensive
Under Danilov, the National Security and Defense Council became the country's most vital institution.
Danilov, who served as the mayor of Luhansk in the mid-1990s, and governor of his native Luhansk Oblast in 2005, leads the Security Council since 2019. Since then, President Volodymyr Zelensky turned the once-neglected council into one of the country's main newsmakers.
The Security Council, consisting of top officials such as the Prime Minister, the Defense Minister, the Interior Minister, and the head of Security Services imposes sanctions, strips Ukrainians of their citizenship, nationalizes property, and oversees key decisions during martial law, which it imposed on Feb. 24 and is still in place.
Despite President Volodymyr Zelensky being the de jure head of the council, the day-to-day activity of the council is led by council secretary – Danilov.
Talking with the Kyiv Independent in his office, not far from Kyiv's downtown, Danilov is entirely focused on the upcoming Russian offensive.
Russians were able to mobilize 321,000 people, with roughly 160,000 of them already sent to the front, Danilov said, adding that Ukraine's defense forces had seriously diminished this wave.
"A lot of them were gunned down by our army," he said.
The General Staff of Ukraine's Armed Forces estimated on Feb. 6 that Russia had lost 132,160 troops in Ukraine since the beginning of its full-scale invasion on Feb. 24.
Danilov says that the current number of troops isn't enough for the Kremlin to be successful on the battlefield because they lack motivation, which may result in a new wave of mobilization in Russia.
"Our motivation is clear: we need to liberate our land," he said. "Their motivation is some absurdity about the made-up great power of Russia."
The other half of the newly-mobilized Russian force is still stuck on Russian and Belarus training grounds. When these troops are sent into battle, too, it could prove challenging for Ukraine, despite their lack of motivation, according to Danilov.
Defense Intelligence Chief Kyrylo Budanov said on Jan. 31 that approximately 326,000 Russian soldiers are currently fighting in Ukraine. Those numbers can't be independently verified.
Although smaller in numbers, Ukrainians have a number of advantages against Russians: most importantly, high motivation and Western-provided weapons.
"We are free people, and even if we don't have weapons, we will fight Russians with bare hands to liberate our land," he said.
But Ukraine does need weapons to strike back — a lot of them.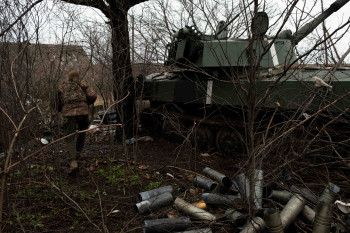 On top of tanks, Ukraine's Armed Forces need more long-range weapons from the West to strike Russia deep into its military rear, Danilov said.
On Feb. 3, the U.S. provided over $2 billion worth of military aid for Ukraine. The package reportedly includes a Ground-Launched Small Diameter Bomb (GLSDB) with a range of 150 kilometers.
Yet, the U.S. has reportedly refused Ukraine's request for the 297-kilometer ATACMS missile. The West's reservations about Ukraine using long-range missiles to strike Russian territory puzzle Danilov.
"If these are military objects that harm us, they should be destroyed, and it doesn't matter where they are placed," he said. "If their function is to kill our children, women, and elderly people, we should destroy these objects."
The West has to provide a sufficient amount of weapons in due time if it wants Russia's war to end fast.
"The civilized world will understand sooner or later that these should be approved because other decisions just postpone the end of the war," Danilov added.
The endgame is clear for Danilov: Nothing less than Russia's disintegration and a push to give up its nuclear weapons.
"Leaving Russians with arms and nuclear missiles is not in our national interest and not in the interest of any country neighboring Russia," he said. "Now is the time for a total dismantling of the Soviet system."
"Russia's disintegration is a matter of national security," he added, as it would only be a matter of time before the Kremlin sets its eyes on Kazakhstan, the Baltic States, or even Poland.
Situation room
On the desk in Danilov's office, mountains of paper cover a massive, detailed map of Ukraine to protect it from prying eyes. Next to it, there is a chess board with an unfinished game. A black pawn stands alone on a white square in front of other figures, opening the offensive.
The Security Council, chaired by Zelensky, includes several top ministers tied to national security and defense and heads of law enforcement agencies, who used to meet almost every Friday before the full-scale invasion.
As the war was looming, the council meetings became even more frequent. Now they are weekly again.
They are now held in secret, behind closed doors, with only some decisions being made public after.
As every Ukrainian, Danilov clearly remembers the day everything changed, Feb. 24, 2022.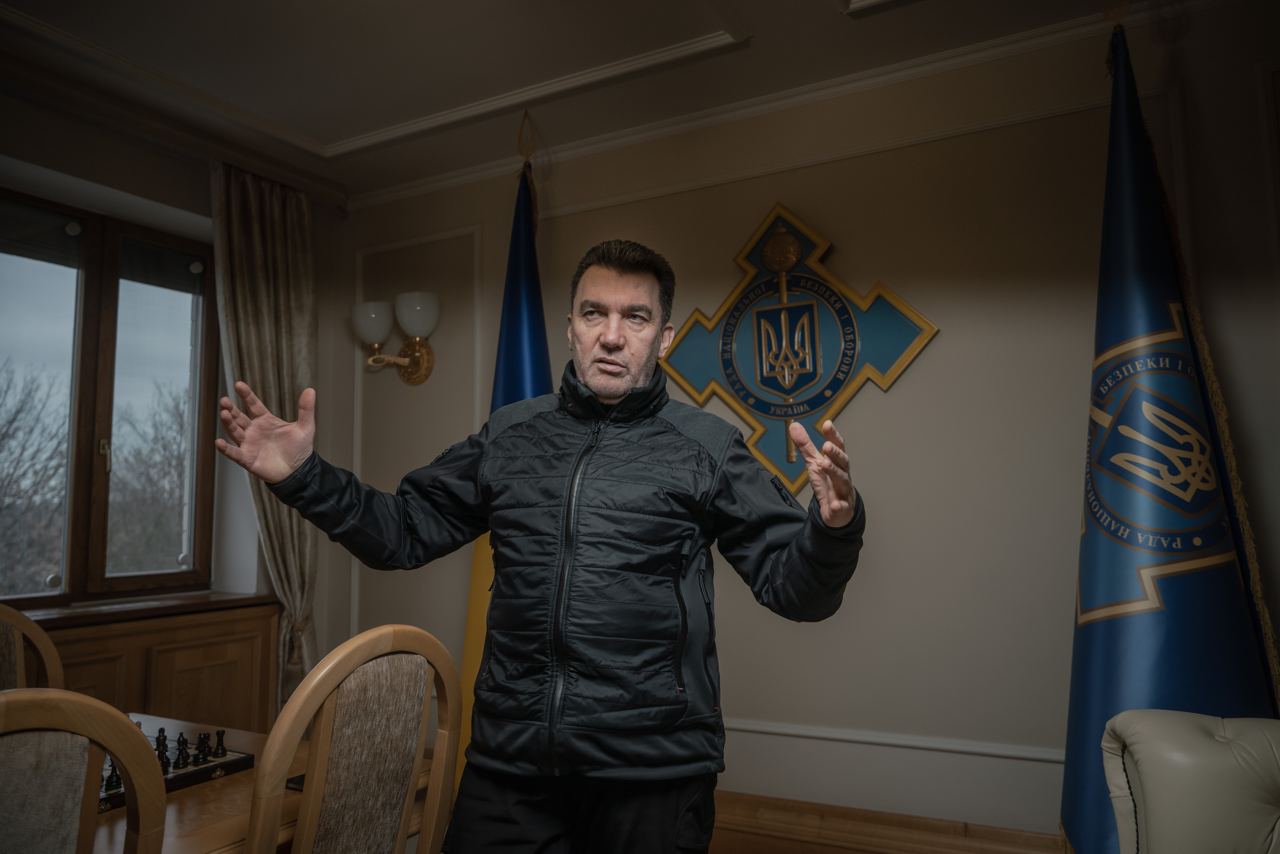 "It was at 5:30 a.m. in the morning when we introduced martial law and mobilization," he recalls. It was the government's first public reaction to the Russian invasion less than an hour after it started.
At the time, Danilov was among many Ukrainian top officials publicly dismissive of Western reports of an imminent Russian invasion, despite the growing number of Russian troops at the border.
He had expressed his doubts on Jan. 20, a month before the full-scale invasion began, to the Wall Street Journal, saying the invasion would be too costly for Russia, an effort widely seen as an attempt to reassure Ukrainian citizens and avoid panic at the time.
A year into the invasion, and as the anniversary date approached, Danilov pushed back on allegations of carelessness.
"Nobody can say we were not prepared," he said. "From October–November 2021, we asked all countries to help us with weapons, and there was no help," he said.
"But we prepared the society, it was the first step to do when you prepare for a war," he said, claiming that Russians were conducting psyops operations to spread panic before the invasion but failed.
Russian spies and sanctions
The council's building, covered with camo nets, is surrounded by heavily armed soldiers, who thoroughly check bags in tense silence.
Yet, an odd sight clashes with the Ukrainian flag near an entrance: two muscular, almost lifesize Soviet statues.
"We tried to topple them, but they're too rooted in the building's foundation, and it threatens its integrity," the council's employee says, apologetically.
Danilov recognized that Ukraine faces an issue with Russian spies and pro-Russian collaborators.
"It's a big problem," he admitted with a sigh. "We made a big mistake in 1991 when we didn't close the KGB but only changed its name," he said, referring to the Security Service (SBU).
"When (Viktor) Yanukovych was president in 2010-2014, it was a thriving period for Russian agents in Ukraine – the defense minister had Russian citizenship, and the Security Council secretary had Russian citizenship, and there were many other cases," he went on.
Russia still holds some power inside Ukraine through its assets, he said, adding that time would put an end to it.
Under Danilov, a number of Ukrainian politicians and businessmen tied to Russia were either sanctioned, stripped of their Ukrainian citizenship, or both.
Danilov called the sanctions a game-changer for decreasing Russian influence in Ukraine.
Among them are sanctions against key pro-Russian politician Viktor Medvedchuk, a major ally and friend of Russian dictator Vladimir Putin, and his entire Opposition Platform party.
Medvedchuk was charged with high treason and placed under house arrest in 2021.
He fled after Russia launched its full-scale invasion of Ukraine on Feb. 24 and was caught in April. In September, he was handed over to Russia as part of a prisoner exchange.
Ukraine received 215 prisoners of war for Medvedchuk and 55 Russians.
"Unfortunately, some lawmakers who are still in office used to belong to the pro-Russian Opposition Platform," he said.
These people "wish to position themselves as mediators in dealings with Putin," according to Danilov.
Danilov promises more steps against Russian-friendly politicians in the near future.
Corruption is treason
Speaking about treason, Danilov says that it's not only about Russian agents. Corrupt officials are traitors as well, he says.
"Corruption is treason not only in wartime but anytime," he said.
However, such corruption has to be proven in court, and he acknowledged that the judicial system in Ukraine was far from ideal and prone to being influenced, including by oligarchs.
"Everybody knew that oligarchs influenced lawmakers, ministers, journalists, businessmen, but nobody mentioned the influence on judges," he said. "But the power over the judicial system completes the oligarch system."
Law enforcement agencies on Feb. 1 searched the houses of several incumbent and former top officials and an oligarch in what appeared to be the largest anti-corruption raid since the beginning of Russia's invasion in February 2022.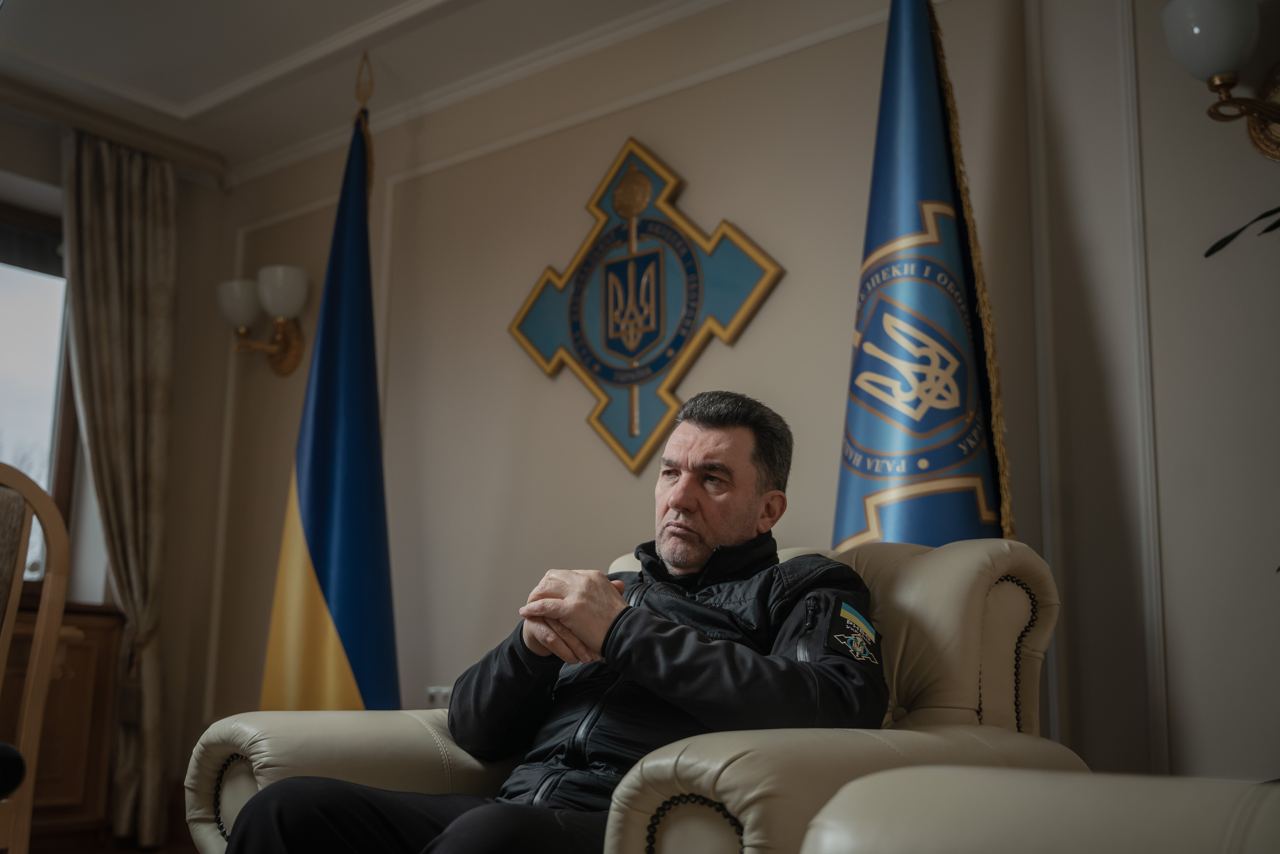 Among others, law enforcers raided the houses of powerful oligarch Ihor Kolomoisky and top tax and customs officials.
The large-scale operation came as the Ukrainian government strives to show its allies that it is tackling corruption as the West provides unprecedented amounts of aid to Kyiv.
Defense Minister Oleksii Reznikov is in the hot seat after his ministry was rocked by a corruption scandal involving food supplies procurement.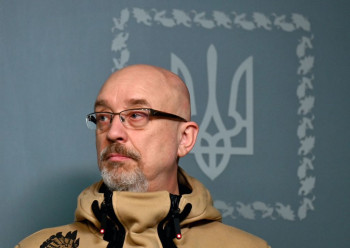 Reznikov, who took his position in November 2021, said he was ready to resign if Zelensky made such a decision.
Ukrainian newspaper ZN.UA released a report on Jan. 21 that the Defense Ministry was purchasing some food for the military at inflated prices, citing the ministry's food procurement contract for 2023.
Ukraine's parliamentary committee on national security, defense, and intelligence have summoned top ministry officials to address the allegations.
Ukraine's military faces a dilemma when it comes to revealing corruption and full transparency.
The topic of defense procurement during the war is sealed, Danilov said, calling it a "very complicated question" while being confident Reznikov would take the steps needed to tackle corruption.
While Reznikov called the report false and asked the Security Service to look into the people involved in spreading the information, Danilov defended Ukraine's freedom of speech, saying it guarantees a healthy society.
"If the freedom of speech disappears, then society disappears as well," he said. "That's what happened in Russia."
He cited the kidnapping and murder of Georgiy Gongadze, a Ukrainian journalist killed near Kyiv in 2000, allegedly after then-President Leonid Kuchma gave orders to "deal" with him. Kuchma denies it.
"The case of Gongadze should be a warning for anybody who wants to shut the mouths of journalists," he said. "Sooner or later, everybody will know everything."
Note from the author:
Hello, this is Alexander Query, thank you for reading this story.
I'm incredibly lucky to have been working with the Kyiv Independent team since day one and before, a team that's working 24/7 to bring you the latest news and in-depth articles to understand the situation in Ukraine and the region.
These are troubled times, but we keep hope, and we will prevail, thanks to our readers. Let us be your eyes and ears on the ground by becoming our patron on Patreon.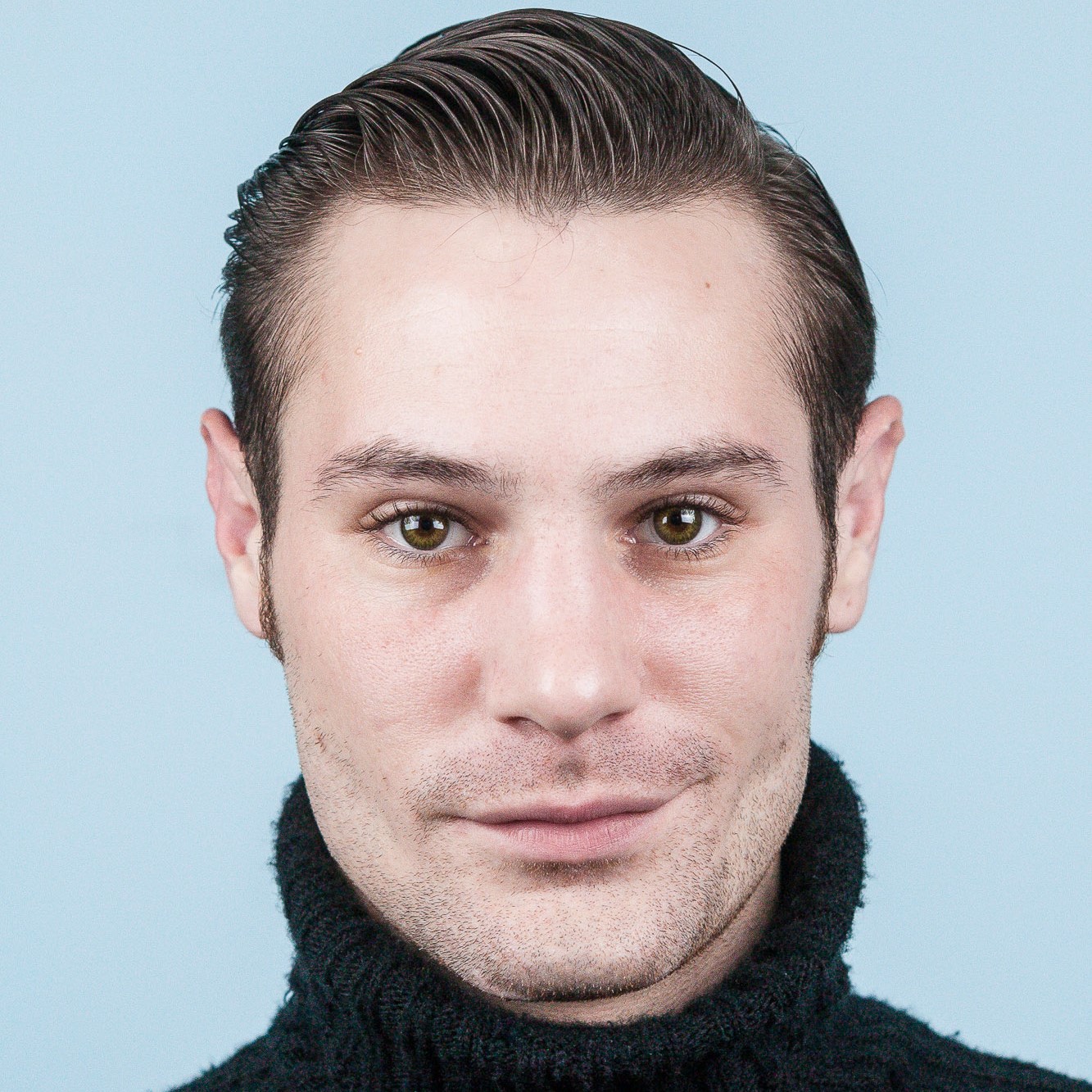 Alexander Query
Reporter
Alexander Query is a reporter at the Kyiv Independent. He is the former business editor at the Kyiv Post. He worked as a TV correspondent and an anchorman at UATV in Ukraine, and received a BA in modern literature from La Sorbonne, in Paris.